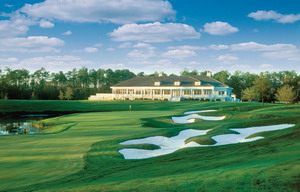 Located in the heart of a natural wetlands conservation area, the Tom Fazio/Lanny Wadkins-designed Prince Creek Tournament Players Club offers more than eagles and birdies. Turkey, fox, heron, deer and the occasional alligator share this lush layout with players from around the world who are seeking a golf experience challenging enough for the pros yet fun for those of all skill levels.
The course makes excellent use of the Grand Strand's marshy topography, with numerous water attractions— and hazards. Its bentgrass greens and lush winter-rye fairways are bordered by dense forests. The rolling terrain features elevation changes of up to 35 feet. Add in narrow, windswept fairways with subtle contours and well-bunkered greens—more than 70 traps in all—and the net result is a truly unique golfing experience.
Test your game at the TPC, and you'll understand why both Golf Digest and Golf magazine have rated it one of the best public courses in America.
The TPC has a unique "centennial" distinction—it is the 100th course to be constructed in the Myrtle Beach golf universe. As a testament to the course's excellence, it was selected to host the 2000 Senior PGA Tournament, won by Tom Watson.
Despite the praise that has been heaped upon it, the Prince Creek Tournament Players Club is by no means stuffy or arrogant. In fact, it is a winner of the "Friendliest Course in Myrtle Beach" award and the First Annual Hospitality and Customer Service Award from MyrtleBeachGolf.com.
Prince Creek offers exceptional practice facilities, featuring 80,000 square feet of teeing area as well as target greens, putting greens and a separate area set up for perfecting that all-important short game. The practice facilities are open to the general public. Here's how Golfer's Guide describes the TPC golfing experience: "The TPC embodies more than just a test of golf. … it weaves a challenge through a visually pleasing maze of natural beauty. The course features 35 feet of elevation change with traditional Southern water features and wetlands throughout the property, and towering pine trees frame many holes, making for a serene setting."
Additional information is available through the pro shop at (843) 557-3399. Reservations and tee times can also be secured on the Tournament Players Club Web site at www.TPC.com/daily/myrtle_ beach/index.html