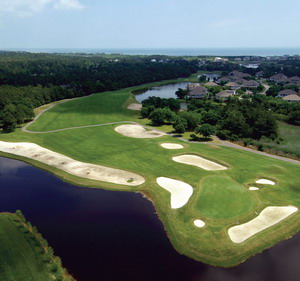 The award-winning DeBordieu Colony Golf Course is a 7,146-yard Pete Dye-designed layout located midway between Myrtle Beach and historic Georgetown in South Carolina.
When it opened in 1987, the course was honored as one of the top 100 golf courses in the United States by Golf Digest and, in the 2005-2006 ratings, scored among the top 50 courses in Myrtle Beach. Local golfers have voted the 449-yard, par four 17th the "Best Golf Hole on the Grand Strand." Golf experts consistently rank DeBordieu as one of the best courses in South Carolina.
A private club, it offers play only to DeBordieu Colony members and their guests. Because it is not open to the public, tee times are never a problem and comfortable four-hour rounds are the norm. So, if you don't plan on living at DeBordieu Colony, be sure to make friends with someone who does.
Here's what a recent visiting player from Boston posted on an Internet golf bulletin board about his DeBordieu experience: "I was lucky to be able to play this private course. The clubhouse is what you would expect at a private gated community—large and splendid. But the true beauty is the 18 holes of pure bliss. The course slips and slides through some amazing terrain, and it is a shot-maker's course. You can enjoy this course at any handicap because of the many tee options. If you get the chance to play it, don't pass it up. This is a top three course on the Grand Strand, but, because it is private, not many people get the honor of playing this amazing golf course."
The picturesque layout—Bermuda grass fairways and bentgrass greens— incorporates trees, the surrounding marshes and a man-made lake created from a historic Revolutionary Warera rice field. But don't be fooled by the beauty of DeBordieu. This lush course can test even a scratch golfer. Constructed in close proximity to the Atlantic Ocean, DeBordieu takes advantage of the coastal terrain, and water hazards come into play on virtually every hole. Add in tight, sloping, well-protected greens and the course's challenges will be immediately evident. Practice facilities at DeBordieu Colony include a 30-tee driving range.
For information on the course, call Shawn Roper at (843) 527-6000. For information on real estate at DeBordieu Colony, call (800) 753- 5987. Those interested in vacation rentals at the Colony should call (800) 797-3633.
Bill Farley