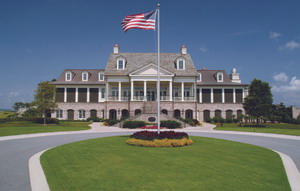 "You can attack one course or use your patience to overcome the other; either way, you can play your kind of golf on any given day."
Thus says Jim Storey, general manager of Colleton River Plantation on Hilton Head Island, talking about the two golf courses that regularly make the "best-of-the-best" lists in a multitude of golf publications.
"Pete Dye will tell you that his Colleton River course is his best work," Storey continues, "a crowning achievement in over 30 years of course design. And we have the Pete Dye Clubhouse, a complement to both courses and to the existing Nicklaus Clubhouse."
The Carolina-brick clubhouse overlooks Port Royal Sound, its 5,000- square-foot wraparound porches providing breathtaking Lowcountry views. Interior furniture features custom-made Southern designs more than a century old.
Outside, there's nothing old about the courses. Modern course design and architecture provide highly technical playing fi elds. The Pete Dye Course, along with the neighboring Nicklaus Signature Course, give Colleton River the distinction of being the only private golf community in the world to have had two courses on the same Top 100 list. Remarkably, Dye's course made the list just six months after it opened for play.
On the Nicklaus Course, the "Golden Bear" created a layout that places a premium on strategy and shot-making, striking a fine balance between challenge and playability. Heroic carries over hazards, penal bunkers and multi-tiered putting surfaces are notably absent, while open approaches to gently contoured greens, alternate routes of play and ample bailout areas are the norm. The course begins its journey through forests of live oaks, towering pines and magnolias on holes 1 and 2, then rambles through lush meadowlands on the par-5 3rd, to the tranquility of the tidal marshes and subtropical palmettos on holes 4 and 5. It repeats this pattern three times before bursting out of the protective environs of the interior on the unique par-fi ve 14th to its fi nale on a wonderful stretch of wind-swept dunes bordering the Colleton River.
In this kind of atmosphere, playing the Jack Nicklaus Course in the morning and the Pete Dye Course in the afternoon is, as one of Colleton River's members said, "…the stuff of dreams."
For more information about Colleton River Plantation, call (800) 673-6456.
Dave C. Berry