For much the same reason, Legend Oaks Golf Club is both a beautiful place to enjoy a Lowcountry day and a stiff challenge for golfers.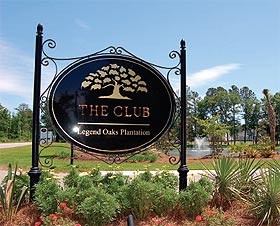 The course, built where rice once thrived in the heart of South Carolina's plantation country, offers a picturesque peek at all Mother Nature has to offer. Ponds, lakes, streams and wetlands dot the course, while ancient oak trees that have been around since long before the Civil War can be found throughout.
But the peaceful water, bursting with a wide variety of Lowcountry birds and wildlife, shows its dark side, greedily guarding Legend Oaks' greens and fairways, gobbling up balls that venture too close and forcing golfers to make crucial decisions about club choices and risk-to-reward ratios. The water comes into play on nine of Legend Oaks' 18 holes, daring golfers to make the wrong decision about whether they have both the club and the guts to move from dry land to dry land without suffering the pain of a penalty stroke.
The signature hole at Legend Oaks is the 10th, a 372-yard par 4 where golfers must hit over the wetlands to an elevated green guarded by traps, a water-filled ravine and a giant oak. But first they must carefully place their drive, avoiding water on the left that is reachable from the tee box with a long drive, as well as deep woods on the right.
Another challenge is presented to golfers on number 17, a par 3 that requires them to carry the ball almost 175 yards from the back tees to the large, treacherous green. More danger awaits in the pond between the tee and the green. It's home to a large alligator, and swimming is not recommended.
The finishing hole is a 507-yard par 5 that beckons big hitters to go for the green in two and putt for an eagle. Accuracy is vital because the large, undulating green is surrounded by sand.
Legend Oaks is located on Highway 61 near Summerville. The course plays at 6,974 yards from the championship tees but can be as short as 4,954 yards for those who choose to play from the red tees.
Brian Sherman